Suwon Samsung Bluewings vs Zob Ahan Live Stream 14 September 2011 ASIAN CHAMPIONS LEAGUE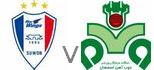 Suwon Samsung Bluewings vs Zob Ahan 2011
September 14, 2011 11:30 AM BST
Suwon WC Stadium
Tired Suwon Bluewings ready to maintain their incredible Asian Champions League home record
Suwon's international stars have had a busy schedule in recent weeks and appeared fatigued in Friday's league clash with Seongnam, but they'll enjoy home comforts against Zob Ahan
Suwon Bluewings coach Yoon Sung-Hyo believes his side's sensational Asian Champions League (ACL) home record should help them get past Zob Ahan in Wednesday's clash despite their recent heavy schedule.
The Korean FA Cup winners are unbeaten at home in the ACL in 26 matches, recording 22 wins in that stunning streak.
However, the Bluewings have had a hectic schedule in recent weeks, due to their league, FA Cup and K-League Cup duties, along with the international fixtures which a number of their players have been involved in including goalkeeper Jung Song-Ryong, captain Yeom Ki-Hun and Uzbek forward Aleksandr Geynrikh, who is eligible for the game after missing the group stage.
"The national team players are tired and against Seongnam last Friday (a 3-2 win), they struggled in the second-half but overall we are in good condition and we are confident ahead of this match and we will do our best," Yoon told reporters ahead of the game.
He added: "We know that Zob Ahan is an excellent team. However, we have a good record at home and we want to extend that."
"If we want to do well in the second-leg then the first-leg is hugely important. We feel good at home and we are confident. It would be great to score a number of goals but Zob Ahan are strong so we are not thinking about that."
Yeom admitted he was tired after the recent run of fixtures but said he was focused on getting to the final four.
"It has been a busy few weeks for us but now we are fully focused on Zob Ahan and trying to get to the semi-final," Yeom said.
Zob Ahan knocked out K-League outfit Pohang Steelers in the quarter-finals last year, on their way to the final which they lost to Korean club Seongnam Ilhwa.
The Iranian club's coach Mansour Ebrahimzadeh said they would use their experiences against Korean clubs last year to their advantage.
"The game against Seongnam is history now," Ebrahimzadeh said.
He added: "We played well in Pohang's stadium. The difference is this time that we play in Suwon first and then go to Iran but apart from that, the situation is the same.
"We met two K-League teams last year and we learned from that experience and we know what to expect from Korea Republic teams. We will have to be at our best to win but our players have the experience of going all the way to the final."
Suwon Samsung Bluewings vs Zob Ahan Last Five Matches :
Suwon Samsung Bluewings:
Zob Ahan:
Aug 24, 2011 Malavan 3 - Zob Ahan 3 IRN1
Nov 13, 2010 Seongnam Ilhwa 3 - Zob Ahan 1 ACL
Suwon Samsung Bluewings vs Zob Ahan probable Lineups :
Suwon Bluewings players (from): Seong-Hwan, Soon-Hak, Yong-Rae, Tae-Ahn, Joon-A, Sung-Hyo, Seung-Min, Yeon-Soo, Sung-Kuk, Tae-Kyun, Jae-Won, Ki-Hun, Sang-Gi, Seung-Je, Jong-Jin, Dong-Won, Jae-Il, Kyung-Hyun, Hyung-Goo, Bergson, Ja-Ryoung, Sang-Ki, Jang-Eun, Ji-Hoon, Ji-Hun, Marcel, Dae-Hwan, Hyun-Jin, Chung-San, Sung-Ryong, Ristic, Kyung-Hwan, Neretljak, Kyung-Mo, Geynrikh, Beom-Seok, Sang-Min, Sang-Ho, Jong-Sung, Chong-Hee, Hee-Ju, Se-Kye
Zob Ahan team (from):
Suwon Samsung Bluewings vs Zob Ahanl Live Stream on 14 September 2011. Follow this blog to watch Suwon Samsung Bluewings vs Zob Ahan Live Stream live coverage broadcast from veetle, sopcats, ustream, vshare and others format live stream links. At the end, if available we will provide livescore, results and goals highlights here. Link Stream